Wir waren schon sehr gespannt, welche Abfüllung den Reigen der Tasting Notes 2016 eröffnen würde. And the winner is ..... BOWMORE!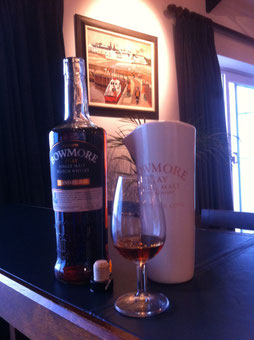 Nachdem wir hier das letzte Jahr mit dem Devils Cask III beendet hatten, erwartete uns mit dem neuen Valinch eine weitere Sherry Expression.
Bowmore Hand Filled Single Cask Bottling 2002 1st fill Oloroso Cask 54% abv, 13 yo.
Allein die Farbe ist schon sehr anregend: dunkles Bernstein.
Die Nase wird begrüßt von dunkler Schokolade, gefolgt von der salzigen Briese, die definitiv aus dem Glas und nicht durch die geöffnete Terrassentür des Bowmore Visitor Centres vom Lochindaal herüberweht. Rosinen, Bergamotte und Kumquat entfalten ein opulentes Fruchtbouquet.
Lagerfeuerromantik kommt jedoch nur durch ein Hauch von Beef Jerky auf. Rauch ist dagegen erstaunlich wenig zu finden.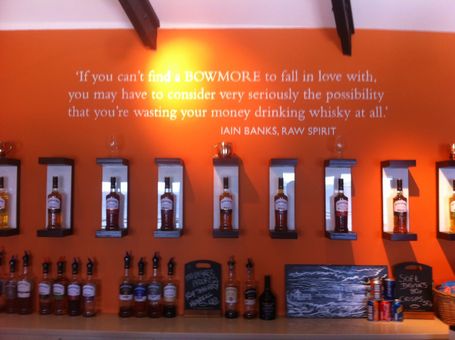 Das macht jedoch neugierig - wird sich das geschmacklich fortsetzen?
Mit dem ersten Tropfen auf der Zunge ist er da: RAUCH ... herrlich warm gepaart mit einer komplexen, balancierten Süße. Dunkle Schokolade, Rosinen, dunkle Früchte ... dann kommt ein wenig Holz in Form von Süßholz, wird mit der Zeit dominanter. Komplettiert wird dieser Eindruck durch cremige Marzipannoten.
Der Abgang ist lang und anhaltend.
Perfekte Begleiter hierzu sind dunkle Schokolade, die gerne auch Rosinen enthalten darf.
So hat das Jahr 2016 einen gelungenen Tastingstart.
Slàinte mhath!